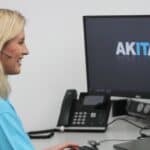 IT SUPPORT IN KENT
As a leading IT company, Akita delivers professional IT support in Kent that organisations can rely on.
With a responsive 24/7 helpdesk, a large team of engineers and consultants and more than 40 managed IT services, we're the perfect IT partner to help your organisation grow.
Get In Touch
For a conversation about IT support and services, reach out today: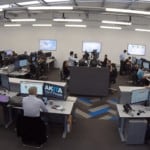 BUSINESS IT SUPPORT IN KENT
A leading IT partner to Kent organisations.
Akita provides hassle-free, effective IT support for all sizes of organisation. We're available 24/7, never take a holiday, and we can deliver support and expertise at scale.
In addition, our support service is typically  25-40% cheaper than even one in-house IT member of staff. And for that, your organisation gets access to a whole team's worth of expertise.
Our approach to IT support also sets us apart. We mix responsive and proactive IT support to better serve our customers. So rather than waiting for issues to arise, we take proactive steps to try to reduce the chance of issues occurring in the first place. In turn, this reduces IT-related downtime for our customers, saving them both time and money.
And if you need evidence of our fast response, friendly team and attentive service, just read some of our more than 200 five star reviews from our customers.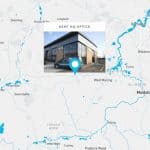 Unit 15, Nepicar Park, London Rd, Wrotham TN15 7AF
Wrotham HQ – Near Sevenoaks
Our main IT Support desk is located in Wrotham, just outside of Sevenoaks. We're just off junction 2a of the M26, meaning we can be anywhere in Kent quickly should your issue not be resolved remotely.
Find Us
OUR IT EXPERTISE
Our depth of in-house knowledge is part of the reason we're a leading provider of IT support in Kent.
With a team of more than 40 IT engineers and consultants, we can provide organisations with expert support and consultancy for a wide range of IT and communication solutions, as well as provide guidance on IT policies and best practice.
We hold all of the accreditations you'd hope for from a managed service provider, such as Microsoft Gold Partner and Apple Macintosh Technicians certification. Plus, each of our engineers is a specialist in their own areas, ranging from IT infrastructure to app creation.
We also provide leading IT consultancy. Based on years of experience, we can provide best-practice advice on IT processes and systems. We can also guide organisations on topics such as ISO, Cyber Essentials and GDPR.
As a result, some of Akita's customers just work with us for specialist knowledge and advanced technical support. Whatever your requirement, our experts can deliver effective support your organisation.
MANAGED IT SERVICES KENT
Alongside IT support, we're a leading provider of IT services in Kent
We offer our customers a selection of more than 40 managed IT services. These include all of the core IT services that you'd expect from a professional IT company: managed backups, email services, Office 365, IT security, data recovery, business continuity, cabling services and more.
Our IT experts can also deliver more complex solutions relating to VoIP and unified communications, and hosted solutions. We can even arrange high-speed connectivity for your premises, getting reliable internet access to the toughest of locations.
And as a Microsoft partner, we have the in-house expertise to support solutions ranging from Microsoft 365 and Teams, Dynamics 365 to SharePoint.
Request A Quote
For a fast cost comparison of IT support or services, use our Quick Quote form: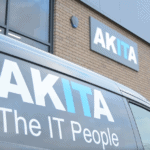 LEADING IT COMPANY IN KENT
Being a Kent IT company is important to us. Akita's head office and primary IT helpdesk are located in historic Wrotham Heath, near to Sevenoaks. Conveniently located close to the M20 and M26, we can be with customers across Kent quickly if needed.
We also have a presence in an industry-leading, energy-efficient data centre located in Maidstone which powers our cloud architecture and hosted services.
From our locations, we provide IT support and services to over 200 Kent-based customers. These include organisations based in Sevenoaks, Maidstone, Tonbridge, Paddock Wood, Tunbridge Wells, Dartford, Chatham, Rochester, Gravesend, Gillingham, Sittingbourne, Whitstable, Ashford, Faversham, Canterbury, Folkestone and Dover.
IT SUPPORT ACROSS LONDON AND THE SOUTH EAST
Alongside IT support in Kent, Akita provides IT support and solutions to organisations across London and the wider South East from our Central London, East London and Surrey offices.
We also work further afield. With our scale and 24/7 operations, we're able to support our customers' satellite offices locations both throughout the UK and internationally, providing continuity of service across all locations.
Akita's team of talented IT engineers and consultants support organisations using a broad variety of infrastructure, hardware and applications. We even assist with industry-specific systems and software, such as accounting software and field service applications.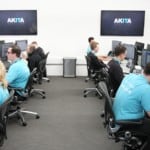 200+ five star reviews
The support service is always run at the highest possible standard. All issues are resolved with a lot of care. All phone calls and emails are answered very professionally and in extremely good manners. Thank you Akita :)
Aggie
Fantastic IT support for all business large and small, very helpful and so so super efficient.
Kevin
They have a fantastic team of specialists who are understanding, kind and informative. Their support feels both professional and personal to the company, which makes our own IT department function even more effectively.
Tom
...extremely professional, friendly and provide excellent customer service.
Barbara
We consider Akita as our off site IT department and find you and your colleagues always happy to assist with our questions.
Eileen
Get in touch
To discuss IT support in Kent and our services, call 01732 762675 or get in touch
Thank you
We have received your enquiry and a member of our team will be in touch soon. If your query is time sensitive please do call us.