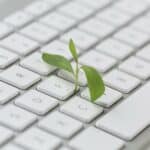 Values
SUSTAINABILITY
Akita cares about the environment in all its forms and makes sustainability an integral part of company operations wherever possible.
Akita is dedicated to improving its impact on the environment. That's why we're committed to becoming carbon neutral by 2025.
We're focusing on minimising the impact of our operations on the environment by means of a programme of continuous improvement. Our commitments include to:
Sustainability in practice
Our sustainability commitments transfer through to how we conduct our business activities. As an example, our cloud infrastructure is housed within an award-winning sustainable data centre that uses half the power of an average data centre.
We are committed to upcycling and recycling redundant IT equipment and are WEEE compliant. We also additionally provide recycling as a service to our customers so they too can dispose of hardware responsibly.
Within our offices, we carefully manage energy consumption, actively choosing low energy technology solutions. Our energy supplier produces power from renewable sources. And use as little paper as possible in our operations, taking a digital-first approach.
And as an acknowledgement to wider changes required, our in-house chef alternates vegetarian meals for lunches. This reduces meat consumption within the organisation and the knock-on carbon impact.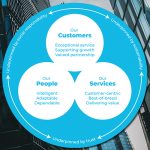 Sustainability
Built Into Our Values
Sustainability is far from a buzzword within our organisation. It's one of our Managing Director's key priorities and is shared as a value by staff throughout the company.
As such, a sustainable approach to business is built into our DNA. And we're continually looking to improve our environmental impact through new measures – big and small.