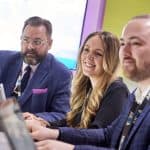 It only takes 1 minute!
Quick Quote
Looking for a cost comparison for IT support or services? You're only a few short questions away.
Our experts will be happy to provide you a quote tailored to your requirements. Get in touch today:
Fill in the below form:
Complete the form and one of our consultants will be in touch as soon as possible to provide you with options and pricing information.
Thank you
We have received your enquiry and a member of our team will be in touch soon. If your query is time sensitive please do call us.