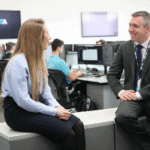 We've Grown With Your Help
For the past 25 years, Akita has worked hard to provide excellent service to our customers. That's why we are rated 4.7 out of 5 with 300 reviews on reviews.io.
We strive to always offer the very best in terms of service. And we continue to grow thanks to our customers' recognition of this.
The recommendations and testimonials that we receive from customers really do help us to attract new business.
So if you're happy with our service and can spare a moment to leave us a good review, we'd be very grateful. Every positive comment goes a long way.
Recommend Us
Referral Offer
We also benefit greatly from direct referrals from our customers, where they're able to point or introduce us to organisations in need of our services.
We welcome any introduction to an organisation that you can make. Referrals can be made either by emailing sales@akita.co.uk or speaking to your Technical Account Manager.
The personal testimonial you provide in such circumstances is often a significant contributing factor to bringing the new organisation onboard with Akita.
Should a referral result in an organisation becoming a new customer, we'll be sure to say "thank you" with your choice of a case of wine, a luxury hamper, or (if you're a customer) £200 off your next bill.
Thank you
We have received your enquiry and a member of our team will be in touch soon. If your query is time sensitive please do call us.