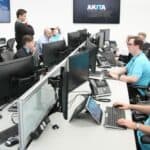 IT SUPPORT DARTFORD
Discover professional IT support and services Dartford organisations can rely on.
Akita is a leading IT company, delivering IT managed services to over 250 organisations across London and the South East.
Our IT support and services are cost-effective and scalable for your growth. They also carry a high level of customer satisfaction – just read some of our more than 200 five-star reviews.
To discuss an IT requirement please get in touch:
Get in touch
To discuss an IT requirement, please call us:
0330 058 8000
To request an IT cost-comparison please use our Quick Quote form:
Contact Us
Thank you
We will be in touch shortly.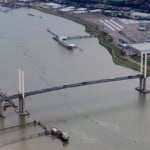 IT Company Dartford
BUSINESS IT SUPPORT DARTFORD
Akita's IT support is designed to take the hassle out of business IT systems.  For this reason, our support offering mixes responsive and proactive elements.
Our skilled helpdesk team are available whenever you need them, able to assist with everything from 'how-to' questions to complex networking issues. The team are experienced in all types of software and operating systems – so we won't be stumped by technical questions.
Our advanced support and monitoring technology mean that we can resolve 99% of support issues quickly and remotely. For the few that required onsite support, our Kent HQ is just 20 minutes from the centre of Dartford.
Meanwhile, our proactive support aims to prevent IT-related disruption. From scheduling updates so that they don't happen during working hours, to keeping up to date with security patches and effective management of IT hardware redundancy, our proactive support and maintenance ensure organisations get the maximum time and cost-efficiency out of their IT systems.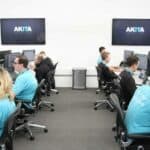 200+ five star reviews
The support service is always run at the highest possible standard. All issues are resolved with a lot of care. All phone calls and emails are answered very professionally and in extremely good manners. Thank you Akita :)
Aggie
Fantastic IT support for all business large and small, very helpful and so so super efficient.
Kevin
They have a fantastic team of specialists who are understanding, kind and informative. Their support feels both professional and personal to the company, which makes our own IT department function even more effectively.
Tom
...extremely professional, friendly and provide excellent customer service.
Barbara
We consider Akita as our off site IT department and find you and your colleagues always happy to assist with our questions.
Eileen
IT Company Dartford
OUTSOURCED IT SUPPORT
Our scale and depth of expertise make us the perfect outsourced IT support partner for your organisation.
For generally less than the cost of one in-house IT resource, you'll have an entire team of IT support engineers ready to help. Plus you'll be able to access a wide range of IT consultants and experts to aid the improvement and expansion of systems.
If you already have in-house IT but lack specialist expertise, Akita can supplement the knowledge you lack. Some customers only make use of our 3rd line specialist expertise, and we're able to offer them technical advice and support in a more cost-effective way than hiring an in-house resource.
IT Company Dartford
MANAGED IT SERVICES Dartford
Alongside support, Akita also offers over 40 managed services. These include all of the core IT services that you'd expect from a professional IT company, as well as unified communication, Microsoft and wider IT consultancy solutions. Discover more:
Get in touch
To discuss your Dartford IT service requirements, please get in touch:
IT Company Dartford
PARTNERING WITH AKITA
At Akita, we pride ourselves in being your IT partner. We're honest in our advice, transparent in our pricing and will only recommend a solution that we believe will enhance your IT systems.
Whether you currently have IT support or not, we'll make transferring the management of your IT to us as simple as possible
At the start of any relationship, we dedicate time to understanding your IT systems as well as your processes and organisational goals. We can then guide you on how to make your IT setup more secure, more time-efficient and more cost-effective.
Case Studies
Discover how we support organisations across Kent and the wider South East:
Get in touch
To discuss IT support for Dartford organisations, please get in touch.
Thank you
We have received your enquiry and a member of our team will be in touch soon. If your query is time sensitive please do call us.