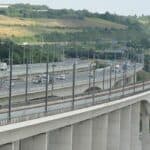 IT SUPPORT MEDWAY
Akita is a leading Kent IT company, delivering IT support Medway organisations trust.
With a 25 year heritage in delivering IT support and services, we've worked with organisations of all sizes and from practically every industry.
Our large team of IT engineers and consultants have experience in a wide variety of systems, software and setups. So however you're operating, they'll be able to help.
And we offer a wide range of IT services, with solutions available to serve organisations from SME to enterprise-level, meaning we can be your long-term partner.
So if you're looking for a new IT company in Medway, please get in touch:
Get in touch
To discuss an IT requirement for your organisation, please call us:
0330 058 8000
To request an IT support or services quote please use our form:
Quick quote
Thank you
We will be in touch shortly.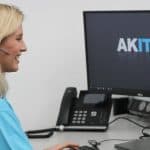 IT Company Medway
IT SUPPORT MEDWAY
The historic Medway towns have long been the home to industry and a wide range of businesses. Akita is proud to be able to offer technology and IT support Medway organisations can rely on to decrease IT-related downtime and improve working efficiency.
We provide IT solutions to companies right across the Medway area, including Chatham, Rochester, Medway City Estate, Gillingham and Rainham. With further customers to the north in Gravesend and others in the east in Sittingbourne and the Isle of Sheppey, you'll often see the Akita vans passing through the Medway area.
Our responsive remote IT support service is a popular solution for Medway companies. Our effective team of helpdesk engineers is able to resolve over 97% of customers' IT issues within two hours. And if a fix is more complicated or requires us to come to site, we can be at their offices in less than 30 minutes.
On average, Akita's IT support services are 25-40% cheaper than even a single in-house IT resource. So to discuss IT support for your business, please get in touch.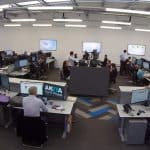 200+ five star reviews
The support service is always run at the highest possible standard. All issues are resolved with a lot of care. All phone calls and emails are answered very professionally and in extremely good manners. Thank you Akita :)
Aggie
Fantastic IT support for all business large and small, very helpful and so so super efficient.
Kevin
They have a fantastic team of specialists who are understanding, kind and informative. Their support feels both professional and personal to the company, which makes our own IT department function even more effectively.
Tom
...extremely professional, friendly and provide excellent customer service.
Barbara
We consider Akita as our off site IT department and find you and your colleagues always happy to assist with our questions.
Eileen
IT Company Medway
IT SERVICES MEDWAY
With Medway customers ranging from accountants to manufacturers, we ensure that our range of IT services is diverse enough to fit their needs.
Whether it's data cabling for a new business location, cloud computing solutions to simplify IT setup, VoIP telephone solutions to save money, or a Microsoft Dynamics 365 installation to help run your business smarter, we offer all the business IT services an organisation needs to run successfully.
Discover more about some of our key services below or click to view all services:
Get in touch
To discuss your managed IT service requirements, please get in touch.
IT Company Medway
ABOUT AKITA
Akita is a leading provider of IT support and solutions, working with over 250 organisations across London and the South East.
Our central Kent HQ location is perfect for providing IT support and managed services for companies right across Kent.
In addition to our Kent presence, Akita provides IT support and solutions to organisations across London and the South East from our Central London, East London and Surrey offices.
With fast response and attentive service, Akita has 300 reviews on reviews.io, and is rated 4.7 out of 5 stars from our customers. Coupled with highly competitive prices for support, services and hardware, you'll understand why so many of our customers choose to stay with Akita for the long term.
Get in touch
To discuss your IT requirements, please get in touch.
Thank you
We have received your enquiry and a member of our team will be in touch soon. If your query is time sensitive please do call us.