Over and above having the right systems and software to help drive your business forward, of similar importance is having the most appropriate arrangements for dealing with IT support incidents as and when they arise. Here's when to consider whether switching your IT might be the right for your business.
Internal IT Support
For some, an internal IT team may be seen as the best solution for ongoing support requirements. The benefits are clear, there is a trusted pair of hands on-site for the majority of the time and incidents generally be quickly dealt with.
However, there are a number of downsides to this approach including:
Good quality IT support staff are expensive and a full-time employee for an organisation with fewer than 50 employees will likely be underworked.
Relying on one person means that you are at the mercy of their knowledge and given how fast-paced the IT industry is, their skills may well be out-of-date.
Choice of technology. It is only natural that an IT manager will try to stick to technology and systems which are known to them. As a result, new and improved technology may be avoided and, more importantly, their exposure to alternative systems and ways of working will likely be limited.
Holiday / sickness cover and out-of-hours support (where necessary). You may still need an IT service provider to ensure you have adequate cover when your in-house resource is off work.
As well as being expensive, good quality staff are incredibly hard to find and equally hard to retain.
Relying on an individual means that if they leave, or are unfortunate enough to be sent on long-term sick leave, your organisation will be exposed to this risk.
The IT industry as a whole remains incredibly fluid and fast-paced. Cloud service provision now means that businesses can do without physical servers. Mobile computing is so sophisticated that employees can genuinely remain productive wherever they are.
Outsourcing IT Support
With the rapidly changing nature of the IT industry, particularly with the huge rise in cloud computing and flexible working, ensuring that you have the right IT service provision is more important than ever. If choosing an IT service provider to meet your needs (and there are thousands of potential partners in the market to choose from, from one-man bands to the global outsourcing giants), choosing the best one for your organisation needs to be very carefully considered.
How to choose the right IT support provider?
There are a few key considerations of how to choose the right IT support provider when outsourcing your IT. After all, you need to be assured that the company you partner with can continually deliver the service you need.
In carrying out your due diligence of potential provider, the following questions may help you to make a more informed decision about their long-term suitability:
How many employees do they have and how many are technical staff?
Of course it is not the case of the bigger the better (unless your requirements are global in which case this may be a consideration). That said, the service provider needs to be capable of supporting you at all times, not just when it suits them. For example, if you have more than 100 staff then you should probably not be considering a small company with only a couple of engineers. That said if you want a friendly, personal service for a small number of users then you should not be considering a large IT company.
To find this out for yourself, it may well be prudent to carry out a Companies House search to get some details on their financial standing and background. Of more importance is to visit their offices to get a feel for what makes them tick.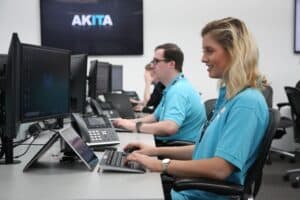 Financial Standing and Stability
Again, it is wise to verify that potential partners are financially sound and, ideally, steadily growing. In all industries companies come and go, and IT is no different. Checking their financial strength and how stable they are could save you from
Do they have relevant experience?
In addition to verifying that they have been in existence for an acceptable amount of time, it is important to understand the type of clients they work for and the track-record they have in dealing with similar organisations (preferably in terms of company size and industry / technology used).
Carrying out a 'meet and greet' at their premises to meet the management team, back office staff, and the engineers, can dispel any doubts and provide peace of mind about a provider's suitability.
Response times
The reason that talking to service providers is that you are looking for an ongoing support partner. Quite simply, when things go wrong you will be expecting them to deal with any problems quickly and effectively, minimizing system downtime.
Response times should be specified and included in the Service Level Agreement. These may vary by the type of incident, but agreeing on minimum response times and holding them to account if they fail is vitally important.
Contract Terms and Flexibility
It may be the case that your business fluctuates in size, or that you are planning an expansion or reduction in user numbers in the future. With a long-term relationship, it is likely that changes will occur and a flexible approach from the service provider may be required.
Ensure that any agreements allow for changes to be made and that the financial implications of potential changes are understood (and reasonable!).
Value
Cost will invariably be a consideration in your choice of IT support provider, but it should certainly not be the primary one.
IT support companies will present their proposals in different ways, often making the cost comparison harder to make. Make sure you do understand all the items which are included as well as those that are not! One proposal may look more expensive but it could include things which have not be incorporated by competitors.
To simplify this, try to make the cost comparison as standardized as possible and consider sending out a set document to each company included in the process.
Testimonials and Case Studies
Partnering with the right IT support provider with an appropriate track record will ensure that they are capable of supporting your organisation. Taking this a step further by speaking to some of their clients – although they are unlikely to put you in touch with an unhappy customer, you may well get a pretty honest opinion on their long-term performance.
Forward-thinking Approach
IT is incredibly fast-paced and although some initiatives are fads, it is very short-sighted not to keep fully abreast of the latest developments within the industry. We suggest that you choose an IT provider who is generally forward-thinking and proactive in their approach. Keeping you informed of technological advancements, and potential issues with your systems, and ensuring that they have a deep understanding of your organisation is tremendously beneficial.
Summary: Choosing the right IT support
The decision of whether to use a 3rd party for your ongoing IT support will come down to a combination of factors, many of which are likely mentioned above.
We understand that choosing the right IT company for your business is a more complex consideration and one which can hold your company back if you make the wrong choice.
We at Akita Systems firmly believe that we are the ideal IT partner for SME businesses (from 10 to 200 employees) and we would like to demonstrate why we are the right IT support for you. We even have dedicated processes for switching to us.
To discuss your requirements in more detail, get in touch:
Contact Us