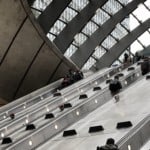 IT SUPPORT FOR FINANCIAL SERVICES
Professional IT support and managed services for the finance industry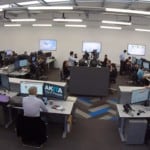 Akita is a leading professional IT support and managed service provider
As one of the main industries we work with, we provide IT support for financial services companies across London and the South East.
Our managed IT services are geared towards supporting the needs of financial organisations and addressing IT priorities. Below is more on how our service operates.
24/7 IT Helpdesk SUPPORT
Akita operates a large and responsive 24/7 IT helpdesk. Whatever time you find yourself working, you'll be able to access expertise to resolve your issue.
All support requests are dealt with within strict SLAs which are monitored and reported on by our Helpdesk manager, so you won't be kept waiting.
Issues are also prioritised based on their severity, so if your issue is business-critical you'll be moved to the top of the queue.
Akita uses remote support technology to resolve over 99% of our customer's issues. But with offices in Central London, Kent and Surrey, we can also be onsite quickly if we need to be.
IT Support For Finance
PROACTIVE IT Management
Through our IT support, Akita aims not only to fix problems but prevent them from happening in the first place. This decreases business interruption for our customers and helps them be more productive. We, therefore, match up our responsive helpdesk support with a proactive IT support element.
Proactive General Maintenance (PGM) days are regular periodic maintenance visits, geared towards the specific IT setups of our financial services customers.
From complex checks on server security, to simply scheduling updates so that they don't happen in business hours, we save our customers time through our proactive approach.
All of our engineer's activities on these days are scheduled and recorded in our own custom PGM Power App. Our customers receive a report at the end of each PGM day, providing them with a snapshot of the state of their IT.
Our PGM records also help us identify ongoing problem areas or systems that could be improved. This can then be used to inform the IT development roadmap for your organisation.
IT Support For Financial Services
Case Study
IT Outsourcing For Finance
EXPERT IT PARTNER
Partnering with Akita will provide you not only with 24/7 support but access to a team of over 30 engineers and consultants. Each is an expert not only in general IT support but also other software, communications and business specialisms. Their expertise allows Akita to offer and support over 40 separate managed IT services to our customers.
Akita as an organisation also carries a range of industry-recognised certifications. We are a Microsoft Gold Partner, certified for Apple and Mac support, and partners to a range of leading solution providers including 3CX, Sophos and Veeam.
In terms of security, Akita is also ISO 9001 and 27001-accredited and Cyber Essentials certified. We are also able to assist our customers in achieving these accreditations as well.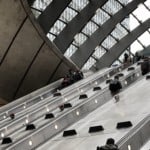 Customer Reviews
The support service is always run at the highest possible standard. All issues are resolved with a lot of care. All phone calls and emails are answered very professionally and in extremely good manners. Thank you Akita :)
Aggie
Fantastic IT support for all business large and small, very helpful and so so super efficient.
Kevin
They have a fantastic team of specialists who are understanding, kind and informative. Their support feels both professional and personal to the company, which makes our own IT department function even more effectively.
Tom
...extremely professional, friendly and provide excellent customer service.
Barbara
We consider Akita as our off site IT department and find you and your colleagues always happy to assist with our questions.
Eileen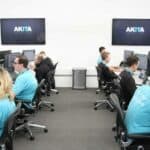 Digital TRANSFORMATION
Akita's services go well beyond day-to-day IT.
Along with communications solutions, we are also digital transformation partners to our customers, delivering business intelligence tools, intranets and CRM systems through our Intelligent Solutions division.
Whatever the maturity of your IT and business systems, Akita can help you both create a technology roadmap and get you to your destination.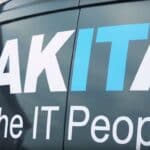 ABOUT AKITA
Established for over 25 years, Akita is a leading proactive IT partner. We support over 300 organisations across London and the South East as well as their satellite locations across the wider UK and internationally.
Along with technical expertise, our focus on excellent customer service has earned us long relationships with the organisations we support. As proof of this, you can read some of the more than 200 five star reviews for our services.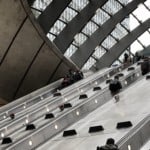 Get In Touch
To discuss IT support for financial services organisations and wider finance IT solutions, get in touch.