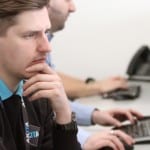 PROACTIVE IT SUPPORT
46% of IT downtime is caused by hardware failure, while a further 40% is caused software malfunction or failure. Proactive IT maintenance and support identifies issues and prevents them from becoming bigger problems.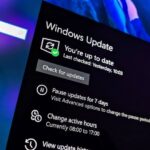 Proactive IT support, known as Proactive General Maintenance, is time dedicated to the preventative care and development of organisations' IT.
It is an important solution for reducing IT-related downtime. It also provides time for businesses to plan the development of their IT with one of our experts. Organisations then make the right choices and avoid costly mistakes.
Delivered together with our responsive helpdesk IT support service, proactive general maintenance provides a 360-degree approach to IT support.
HOW PROACTIVE IT SUPPORT WORKS
Our proactive approach sets time aside for routine maintenance, development and implementation of IT systems. We do this in line with an organisation's long term strategic plans.
Conducted at your location (or remotely if you choose), our engineers will review your IT hardware, systems and software in line with a specific list of proactive IT support healthcare points relevant to your setup. This may include deploying updates and security patches, checking backups, checking server performance, serving VoIP phones or reviewing IT security.
Proactive General Maintenance also provides time to identify whether outdated systems or particular hardware pose a threat to the smooth running of an organisation's IT. We'll advise on the best solution if an issue is identified.
In this way, we give you time to make informed decisions about the development of your IT, giving you choice before costly issues force your hand.
We've also developed a proprietary Microsoft Power Apps solution that tracks and prioritises customers' specific proactive IT maintenance requirements. So when our engineers attend your site to perform Proactive General Maintenance, they'll know exactly which tasks need performing first to keep your systems healthy.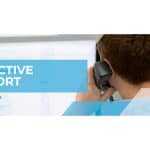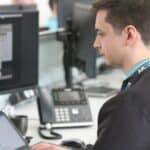 IT PROCESSES & DEVELOPMENT
We can use Proactive General Maintenance time to look for smarter ways to manage an organisation's IT policies and data. This can include reviewing the systems that staff have access to, and how securely information is accessed both within the organisation and from external devices. We can also review data access policies and assist in bringing them in line with best practice and legislation such as GDPR.
Proactive General Maintenance time can also be set aside to plan changes to your IT setup in line with organisational development. Maybe you're about to take on new employees and need to add new connections and data cabling. Or perhaps you need to reorder your SharePoint setup for upcoming business projects. Whatever the requirement we'll be able to strategise the best approach.
Above all, Proactive General Maintenance time belongs to you the customer.
So if there is a specific IT task you need addressing, the system you'd like checking, or a support item you'd like our engineer to look at, we can prioritise this. After all, it's your time.
Contact Us
To discuss proactive IT support requirements for your organisation please get in touch:
BENEFITS OF PROACTIVE IT SUPPORT
Reduce downtime – Proactive General Maintenance identifies issues before they occur, increasing system and hardware uptime. It keeps the wheels in motion and ensures all systems remain fully functional at all times.
Minimise business disruption – Changes and updates to the IT systems are planned and efficiently managed to ensure minimal operational disruption.
Manage GDPR requirements – Proactive General Maintenance time can be used to assess and manage your organisation's data and security, creating safeguards against data loss or theft. On-going data access reviews ensure adherence to security.
Promote smarter buying – By spotting potential issues before they occur, we give organisations time to consider various alternative IT solutions that fit their long-term plans, rather than having to make a quick decision when an item fails.
Save money – From preventing business disruption to helping organisations make better buying choices, organisations can generate savings by taking a proactive approach to their IT.
Get in touch
To discuss proactive IT support for your organisation, get in touch:
Thank you
We have received your enquiry and a member of our team will be in touch soon. If your query is time sensitive please do call us.