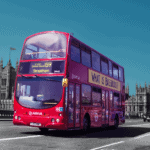 MANAGED IT SERVICES LONDON
A leading IT company located in the heart of the City, Akita delivers professional and scalable managed IT services London relies on.
For over 25 years, we've delivered IT services and consultancy to organisations spanning practically every industry, we have the expertise to support your London business.
So if you're looking for a professional IT partner, with the experience of supporting organisations ranging from SMEs to enterprise level with their IT services, reach out to us today.
Get in touch
To discuss IT service requirements please call us:
0207 100 7232
Looking for an IT service comparison? Use our Quick Quote form:
Quick quote
Thank you
We will be in touch shortly.
IT SERVICES IN LONDON
Akita is a leading managed IT service provider. We offer a range of more than 40 professional and scalable IT  and communication services, delivered by an in-house team of expert IT engineers and consultants.
These include all of the core IT services that you'd expect from a professional IT: systems monitoring, managed backups, anti-virus, cloud solutions, IT security, networking, data cabling and many more.
Our team of experts can also deliver more complex solutions relating to VoIP and unified communications. And we have a dedicated team capable of delivering advanced infrastructure and cloud projects. We can even arrange connectivity solutions for your as well.
Akita is also a Microsoft Gold partner and develops a wide range of Microsoft services including Office 365, Teams, SharePoint, Power Platform and Dynamics 365.
Meanwhile, our consultancy team can assist you with process and security-related aspects of your IT setup, from advice on GDPR and ISO security to systems vulnerability testing.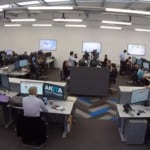 PROFESSIONAL IT SUPPORT IN LONDON
Alongside managed IT services Akita provides 24/7 support from our London, Kent and Surrey locations. Our skilled helpdesk teams are available whenever you need them, able to assist with everything from 'how-to' questions to complex networking issues.
With guaranteed SLAs for our support response, and prioritisation based on the severity of IT issue, our customers know they can trust Akita to be there when they need them.
Over 99% of the support requests we receive are quickly fixed remotely. For the rare few that require it, our London engineers can be onsite with you quickly thanks to our central location.
Our responsive IT support is supplemented by our proactive IT approach to maintenance. From scheduling updates so that they don't happen during working hours, to the effective management of IT hardware redundancy, our proactive support helps organisations to reduce IT-related downtime and improve their systems.
Talk to an expert
To discuss your managed IT service or support requirements with one of our consultants, please get in touch:
WHY CHOOSE OUR LONDON IT SERVICES?
Our managed IT services provide London organisations with a range of cost and efficiency benefits.
For SMEs, Akita's managed IT services provide cost-savings of up to 40% compared to in-house IT. Unlike a single IT employee, we never have downtime relating to holiday or sickness – you always have a team of experts on hand. Plus, our size and scalable solutions mean that SMEs never face growing pains relating to their IT.
For large and enterprise-level organisations, we also offer significant savings. Along with supporting London, our 24/7 IT support can cover satellite offices located both across the UK and around the globe. This removes the need for additional regional IT staff, keeping wage costs low.
With more than 40 IT specialists on hand, we offer a breadth of IT expertise that can be accessed as and when projects arise. This saves money on temporary hires, and guarantees faster project completion due to our existing familiarity with your IT setup, systems and procedures.
And if you want to know about the quality of our customer service, just read some of the more than 200 five star reviews from our customers.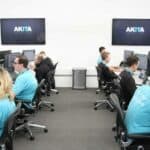 200+ five star reviews
The support service is always run at the highest possible standard. All issues are resolved with a lot of care. All phone calls and emails are answered very professionally and in extremely good manners. Thank you Akita :)
Aggie
Fantastic IT support for all business large and small, very helpful and so so super efficient.
Kevin
They have a fantastic team of specialists who are understanding, kind and informative. Their support feels both professional and personal to the company, which makes our own IT department function even more effectively.
Tom
...extremely professional, friendly and provide excellent customer service.
Barbara
We consider Akita as our off site IT department and find you and your colleagues always happy to assist with our questions.
Eileen
Contact us
For more information on managed IT services in London, call 0207 100 7232 or reach out via the form below:
Thank you
We have received your enquiry and a member of our team will be in touch soon. If your query is time sensitive please do call us.