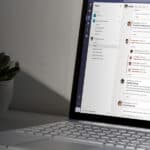 MICROSOFT TEAMS CALLING
As well as being an internal communication tool, Microsoft Teams can also be configured as a phone system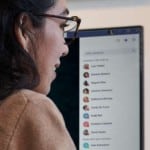 With a Microsoft Teams calling solution, organisations who have – or are considering adopting – Teams can transform the way they communicate.
With the addition of a calling solution, Teams can be an effective replacement for PTSN and ISDN telephone systems. Users can then make phone calls to external numbers from within the Teams application.
A Teams calling setup offers a flexible way to communicate and is a cheaper solution than many traditional telecoms setups.
MICROSOFT 365 BUSINESS VOICE
Microsoft 365 Business Voice is a simple additional per-user licence that transforms Microsoft Teams into a calling system.
Once a Business Voice licence is activated, Teams becomes like a regular desk phone. And with Teams calling, users get their own phone numbers to make and receive calls. Because Business Voice is a part of Teams, you can turn any PC, Mac, or mobile device into a phone to field your organisation's calls.
All the regular features of a phone system are included with Business Voice. This includes features such as voice mail, caller ID, shared phone lines and emergency calls. You can also set up standard and freephone numbers, call menus to help callers get to the right department, audio conferencing to host meetings, and much more.
Business Voice is ideal for organisations of 300 people or fewer. There are domestic (1200 minutes per user/month) and domestic/international (600 minutes each per user/month) calling packages available depending on your requirements. And as a Microsoft Tier 1 CSP partner, Akita can supply and install any Microsoft licences you require for Teams or Business Voice.
Get In Touch
For more information on Microsoft 365 Business Voice, please get in touch:
Direct Routing
Supported by one of the leading names in telecoms, Direct Routing offers the same functionality as Business Voice, just with more flexibility available from calling packages.
Other than the technical configuration, the main difference between the offerings is the minutes available. Our package offers 2000 landline minutes per user/month for the same cost as Business Voice. If you take a three-year contract with us, this changes to 2000 landline minutes and 2000 mobile minutes per user/month.
Direct Routing also gives you access to SIP Trunk Call Manager – one place to manage phone numbers, call routing, call queues, call reporting and more.
So if your organisation makes a high volume of calls, Direct Routing solution could be the more cost-effective way of turning Teams into a calling solution.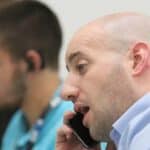 TEAMS CALLING HARDWARE
As well as configuring Microsoft Teams as a calling solution, Akita can supply any calling hardware you may require.
Whether you plan to use Bluetooth headsets to pair with laptops, mobile phone handsets for answering on the go or you want phone handsets on every desk, our hardware team can quote you for solutions that will fit both your budget and technical specifications.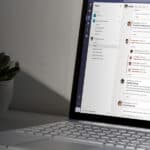 Get In Touch
For more information about Microsoft Teams calling solutions, please get in touch: