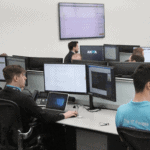 OUTSOURCED IT SUPPORT
Akita's outsourced IT support service is a cost-efficient way of meeting your organisation's IT outsourcing requirements.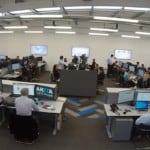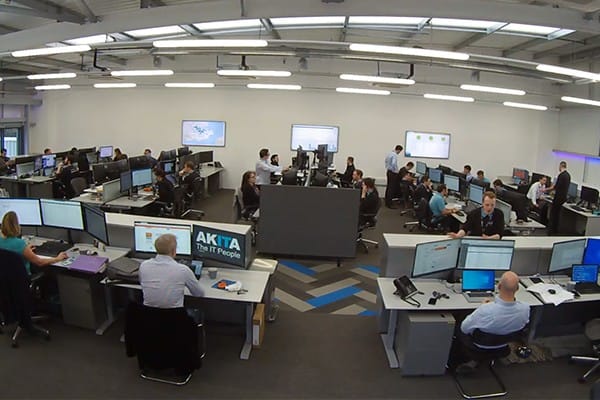 Akita is a leading outsourced IT company, working with over 250 organisations across London and the South East.
With a responsive 24/7 IT service desk and superlative customer service, there are a range of cost and business benefits to outsourced IT support.
Get in touch today
To get a quote for outsourced IT support and services your organisations please get in touch:
WHY CHOOSE OUTSOURCED IT SUPPORT?
There are various ways that organisations benefit from working with an IT outsourcing company.
For SMEs, the cost of an IT department is generally out of reach. Outsourced IT support allows for the professional care of your IT and communications systems at a lower cost than hiring a dedicated staff member.
Organisations that do have in-house IT resources are limited to their knowledge. Outsourcing to a managed service provider such as Akita provides access to a more expansive range of IT experience. It is for this reason that companies approach Akita for the outsourcing of third-line technical and specialist system support, as well as IT consultancy.
For large and enterprise-level companies, IT outsourcing supports expansion. Whether it is to support growth in an organisation or the launch of a new office location, outsourcing IT to Akita means organisations can get immediate support that's scalable for future growth. This is also a cheaper and more time-efficient approach to IT management than hiring additional staff.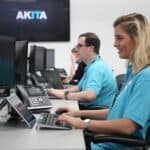 EXPERTS IN IT OUTSOURCING
With a large team of engineers and consultants and a 24/7 IT service desk, Akita is the ideal partner for outsourcing IT support services to.
We've got over 20 years of experience in support, high levels of technical expertise, ISO-accreditation for security, and Microsoft Gold Partner status. So by choosing us, you can be sure you're working with a professional outfit.
For more about our approach to outsourcing, get our guide on the IT outsourcing:
Download Our Guide
Service Quote
To receive an outsourced IT cost comparison, please get in touch:
0330 058 8000
Thank you
We will be in touch shortly.
Benefits Of Outsourced IT Support
TRANSITIONING TO AN OUTSOURCED IT SUPPORT SERVICE
Akita's transition process ensures that the switch to an IT outsourcing company is simple. We'll dedicate time to assessing the current state of your setup and systems, and educate your staff on how to use Akita's IT service desk.
We'll also assign you a dedicated Technical Account Manager. This senior IT engineer will meet with you regularly, report on your systems, and help you to plan for the future development of your IT setup in line with your organisation's business goals.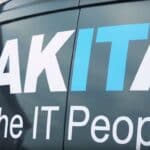 Case Studies
Discover how our outsourced IT support and services benefit the following organisations:
Get in Touch
For a quote on outsourced IT support service, or to discuss options, please get in touch.
Thank you
We have received your enquiry and a member of our team will be in touch soon. If your query is time sensitive please do call us.