Get control of your customer relationships and improve their sales performance. Discover more about Microsoft CRM solution benefits.
What is a CRM solution?
CRM stands for customer relationship management. A CRM system is a centralised and smarter way of tracking contact information and rates of engagement.
If you are struggling to control how your employees communicate with your customers, a CRM solution will enable you to improve how this is done and will ensure that prospect accounts and opportunities are not missed.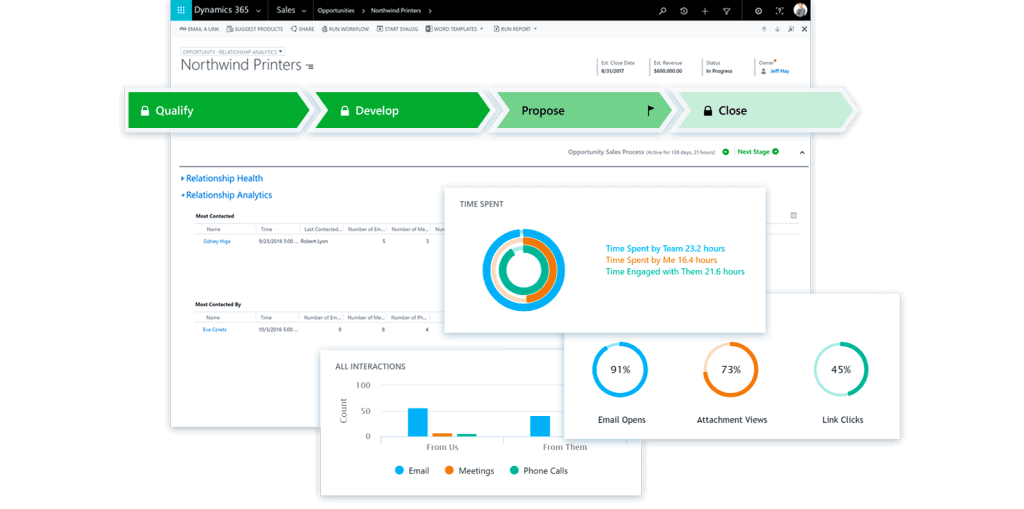 Benefits of a Microsoft CRM solution
Microsoft Dynamics 365 can transform how your organisation works. A Microsoft CRM solution can benefit you in the following way:
Centralise all communication through one solution which can be accessed by remote and field-based staff.
Improve the information you hold on customers in one central database, structured as you require to manage prospecting, quotations, sales, work in progress, invoicing, stock control, etc.
Integrates with email and other systems to provide a bird's-eye view and audit of all communication with prospects, customers, suppliers and competitors.
Track telephone contacts, meetings, etc with full diary management to ensure that tasks are completed.
Manage sales pipelines more effectively to plan future workloads and take control of potential quiet/busy periods.
Improve sales performance through individual reporting and accountability.
Track which leads sources are working best for you and address those that are underperforming.
Improve the collation of valuable information which may otherwise not be collected – this will increase sales and increase the opportunities your sales team are presented with.
Our Dynamics 365 services
Akita develops Microsoft Dynamics 365 through our dedicated digital transformation division – Akita Intelligent Solutions. This specialist team is dedicated to deploying Microsoft CRM solutions in a way that maximizes productivity and working efficiency.
For more info on a Microsoft CRM solution please get in touch: