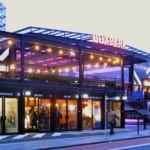 IT SUPPORT CROYDON
Akita are a leading IT company, delivering professional outsourced IT support services in Croydon and across Greater London.
We provide over 40 managed IT services and a responsive 24/7 IT support helpdesk. Our fast response times and friendly, highly-skilled engineers, mean we now have over 200 five star reviews from our customers.
With offices in Central London, Kent and Surrey, Akita can take the stress out of your organisation's IT and support your growth.
Get In Touch
For a conversation about IT support and services in Croydon, reach out today: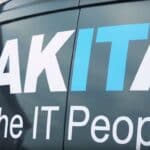 IT COMPANY CROYDON
Akita provides proactive IT support for a range of Croydon businesses. Companies are able to raise any IT issues with us by phone, email and online, and our IT support comes with guaranteed response times for resolving issues.
With our team of 40 engineers and consultants, we are more responsive, more knowledgeable and more cost-effective than having in house IT support. It's for this reason that many companies in Croydon, and across London, choose us as their outsourced IT support partner.
99% of issues can be fixed remotely, but for the rare IT emergencies that require us to be on-site, we can be at your location in around 30 minutes.
We can also provide 24/7 IT support for Croydon companies operating outside of usual business hours, or those with international satellite offices that also need support.
Our 24/7 support is delivered by our own engineers – we don't outsource like some other IT companies. The engineer dealing with your IT support request will be familiar with your company and its IT setup. So in terms of reliable service, your business will get the same great support at 2 am as you would at 2 pm.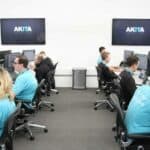 200+ five star reviews
The support service is always run at the highest possible standard. All issues are resolved with a lot of care. All phone calls and emails are answered very professionally and in extremely good manners. Thank you Akita :)
Aggie
Fantastic IT support for all business large and small, very helpful and so so super efficient.
Kevin
They have a fantastic team of specialists who are understanding, kind and informative. Their support feels both professional and personal to the company, which makes our own IT department function even more effectively.
Tom
...extremely professional, friendly and provide excellent customer service.
Barbara
We consider Akita as our off site IT department and find you and your colleagues always happy to assist with our questions.
Eileen
OUTSOURCED IT SUPPORT COMPANY FOR CROYDON
Some organisations have onsite IT support staff but lack access to more specific or technical expertise. It's often not financially viable to hire someone full-time to fulfil this ad hoc requirement.
In such cases, we can provide third-line IT support, giving access to our team's extensive experience and skills base. Whether you need advanced networking support, assistance with VoIP or development work for Microsoft Dynamics or SharePoint, we have the expertise you're after. And you'll pay much less than hiring a new staff member who may only be required part of the time.
Case Study
Discover how we support CAYSH, a charity headquartered in Croydon:
MANAGED IT SERVICES CROYDON
Along with Croydon IT support, Akita offers over 40 professional managed IT services. Discover some of our solutions:
Get in touch
To discuss your managed IT service requirements, please get in touch.
WHY CHOOSE AKITA'S MANAGED IT SERVICES IN CROYDON?
Large 24/7 helpdesk giving you the same quality IT support at 2am as 2pm
Proactive IT support method, reducing IT-related business downtime and saving organisations money.
Wide range of technical competencies, including Microsoft Gold Partner, Apple Mac Technician certification, Cyber Essentials, and ISO 9001 and 27001 accreditations.
Over 40 managed IT services offered, scalable for organisations of all sizes.
An enviable track record of successfully supporting hundreds of companies and thousands of end-users, spanning practically every industry.
Excellent service, reflected in the over 200 five star reviews we've received and average customer relationship of over 5 years.
Get in touch
For IT support that Croydon organisations can rely on, or for managed IT services that drive business growth, call 0207 100 7232 or get in touch.
Thank you
We have received your enquiry and a member of our team will be in touch soon. If your query is time sensitive please do call us.