As an IT services and IT support specialist, one of the major challenges we have to overcome is that of complacency. Getting organisations to follow good IT housekeeping and instilling discipline in working is
Expectations vs Reality
Of course, business owners expect their computer systems to work. And it's our job to ensure that this remains the case.  Thankfully we both love doing this, and we are very good at it!
However, it certainly becomes more challenging to do this over a number of years when the investment in the IT systems and computer networks is lacking.  It is also made more difficult by user complacency and apathy to computer security.  Quite simply, IT security and IT support can often be considered "insurance policies" and, unless an issue has been experienced and the pain felt, users can underestimate the extent of the threats.
Good IT Housekeeping
So, what can organisations do to protect themselves and why is it important not to be complacent?
At Akita, we had a call only last week from a business in Sevenoaks, Kent, whose server had been compromised.  Unfortunately for them, they had no proactive support in place and their systems were unmonitored.  That, coupled with a weak password, gave third party access to the server, which then infected it with ransomware. This software gradually encrypted their files over a period of months, meaning that their backup failed and eventually their server stopped.
Unfortunately for them, by the time we had been called in it was too late – all the files had been heavily encrypted and the cost of deciphering would have been astronomical.  In addition, their last useful backup was months old, meaning that they would have months of work to try to reproduce.
All of these points could have been addressed by better IT housekeeping.
What could have been done to prevent this?
Well, had they benefited from Akita's proactive IT support approach with prescheduled general maintenance days, this would have been nipped in the bud quickly.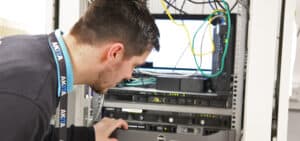 In terms of IT housekeeping, the fact that they had a simple password presented a security weakness that allowed it to be strong-armed.  Passwords need to be alphanumeric, with some capitalisation and special characters included as well.  Also, ensure that they are of sufficient length – anything less than 8 characters is just too short (view this guide to how long it may take to hack your password).
Even greater protection could be ensured by adding multi-factor authentication to add an extra layer of security.
With regard to data backup, if all else fails then it is imperative that you can rely on a good-quality, recent backup to restore from.  Akita's offsite backup takes the problem out of your hands – alternatively, a proactive support approach will flag for any failure in the backup jobs and will again mean that such problems are stopped in their tracks.
At Akita, we appreciate that our clients have businesses to run.  One of the main reasons that so many organisations turn to Akita is that they don't want the added complexity of managing their IT requirements.
If you are a business owner reading this and you do not take advantage of our proactive support packages, please take heed of the recommendations above.
Alternatively, get in touch and we'll be happy to discuss solutions.