IT forms the backbone of most businesses. Based on Akita's experience of supporting over 250 SMEs, we have created an IT checklist for small businesses. These are the essential IT items needed by a business that is starting out and aiming to grow.
According to UK Government stats, in 2017 there were over 5.7 million businesses in the UK. Of these, 99% were small businesses or SMEs (sub-250 employees). And the number is growing.
So if you are one of those new businesses, here's what to consider:
Hardware
Once upon a time, hardware would simply have meant a desktop computer. Now it's fairly common to see retailers running their operations entirely from tablets or smartphones. Business owners clearly now have more of a choice about how to invest in hardware for their business, but it is still a large expense when a business is just starting out or expanding.
Some businesses try to avoid this by having staff bring in their own personal laptops and devices. This can quickly go wrong as a business expands, and a company finds itself trying to get five laptops with different operating systems and specifications to work together. It's also a very quick way for malware or viruses to be shared across company systems, as poorly managed or unprotected laptops are added to networks.
If cost is an issue for hardware, then considered managed hardware options. This will allow you to spread and reduce the cost of devices when going through a period of expansion. It is also a safeguard against obsolescence: the average laptop lasts only three years before the performance starts to drop. By leasing rather than owning, you can usually trade-in for new models as required rather than face an unexpected bill for new hardware.
Connectivity
Internet connectivity is a must for any business. Stats suggest that 14% of businesses start to lose money as soon as they find themselves without it. A reliable leased line with good bandwidth is, therefore, a must for any business.
The temptation to get a home Internet connection installed in a business should be avoided where possible: you'll soon find yourself out of bandwidth should you add more users or adopt VoIP phones.
Businesses should also consider having a backup connection. This could be a smaller or more basic secondary Internet line, but as a cheaper solution, you could consider a 4G router. Not only can this be switched on and off as needed, but it will also allow you to bypass problems relating to infrastructure (a frequent cause of outages) that can affect your primary and secondary lines at the same time.
Cloud Storage & Virtual Desktops
Thought we'd missed 'server' out of hardware? Small businesses don't necessarily need one on-site anymore – unless you want to spend as much as £200 extra on electricity each month!
Provided you have your reliable Internet connectivity in place, cloud hosting makes a lot of sense. Reputable cloud providers ensure your data is saved in multiple geographic locations so it's safeguarded against disaster and there's always a backup.
And the cloud is not just for your documents. With a virtual desktop setup, you can host all your businesses' applications in the cloud as well, with your device or laptop accessing all programs via a secure portal. This makes applications easier to manage, reduces cost on individual licenses and will ensure everyone is using the same version.
A Virtual Desktop also gives you flexibility in working as it can be accessed from anywhere with an internet connection if necessary. And as most of the computer processing for a Virtual Desktop setup is done by the cloud server, you can save money on your work devices by getting lower specification devices.
Website
A website is not just your shop window, it is your brand story and voice in a global business marketplace.
Regardless of how you attract your customers, you will find the benefit of having a website, if only to give people a better explanation and understanding of your company. It's simply a necessity.
Ensure your website has a unique domain to build your brand from. And don't forget an SSL certificate – you could find yourself punished in Google's rankings if not.
Hosted Email Exchange
Email is the communication of choice for most organisations. So it's good to look business-like from the start.
Free services such as Gmail may seem like the right solution, but they can look unprofessional and can get blocked by some email firewalls. Once your organisation grows, these free solutions also become difficult to manage as you require multiple accounts that share data.
Provided you own the domain for your website, you can have a hosted email exchange set up off the back of it (another reason why a website is useful). This provides a branded email solution and means email accounts can be managed more easily (in case an employee leaves). All business emails can also be accessed as needed, so there are no private accounts.
Hosted exchanges also support consistent branding and email signatures regardless of the originating device. This means that all staff emails look professional no matter what device they're sending emails from.
Security
Any IT checklist for small businesses that didn't factor in security would be incomplete.
From email spam filters to virus scans for your server or cloud hosting, make sure you have protection.
Akita still sees far too many businesses lose control of their work emails due to malware in spam. We also see businesses locked out of their systems in a Cryptolocker attack because appropriate anti-virus was not in place.
If you implement security from Day 1 and keep reviewing as you grow, you'll keep your company safe.
Customer Relationship Management (CRM) system
A CRM system may feel like an overly advanced business tool for an IT checklist for small businesses, but over 65% of businesses will adopt one within their first five years of operations.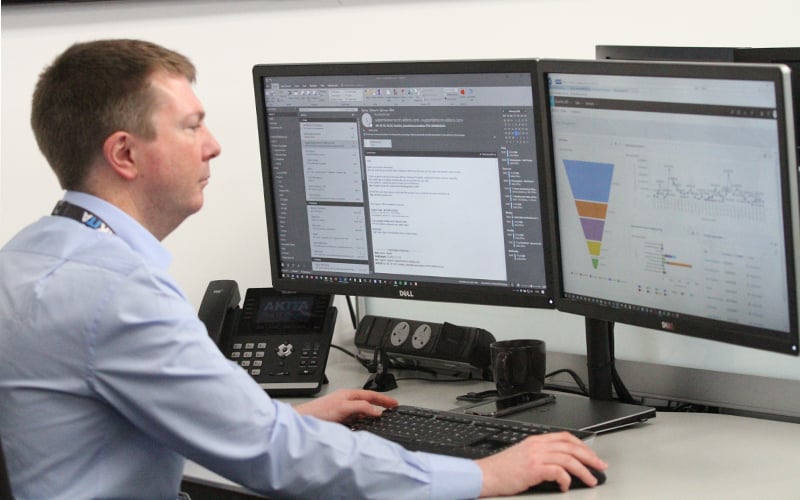 A CRM system gives structure to your business procedures and simplifies activities ranging from sales through to invoicing. In fact, companies that use CRMs are more likely to hit their sales targets. It provides a central control and reporting panel for all your key business data and contacts. CRMs help you manage opportunities, customers and accounts more effectively.
Products such as Microsoft Dynamics 365 go a long way to reducing the costs traditionally associated with a business CRM and often meet the needs of a small business with minimal modification.
Proactive IT support
The last item on this IT checklist for small businesses, in many ways, should be first.
If you're a business owner, you may be used to doing all the jobs around their company yourself. But there are some tasks that should be left to experts.
Owners shouldn't have to deal with the printer when it won't work. Equally, they shouldn't have to know how to recover data from a failed hard drive.
An onsite IT person would be an expensive and largely underused commodity for many small businesses. A remote IT support provider, therefore, makes a great deal of sense for the day-to-day tasks that come up.
When coupled with regular proactive IT maintenance to prevent problems before they happen, IT support proves to be a cost-effective way to keep your business running without losing your own precious time to it.
For more information about items mentioned on our IT checklist for small businesses or to discuss IT support, please get in touch.