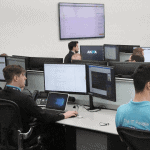 IT Support Provider
SWITCHING IT PROVIDER
Discover how we ensure a smooth transition of service when switching to Akita, and how we support your organisation's growth and success.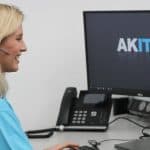 Organisations can reach a point where they know their existing IT provider is no longer right for them.
Whether it's repeated poor response times, a major project failure, high costs or an obvious skills gap, signs will be there that the relationship needs to end.
But there can still be hesitancy to make the change, fearing the stress, difficulty or time pressures of doing so.
With the right partner, none of these things need to be a concern.
As a leading IT support and managed service provider, we regularly speak to organisations that share these same concerns.
We, therefore, aim to make the transition of service process of switching IT provider to Akita as simple and stress-free as possible. We take on all the responsibilities of accessing and learning your systems, transferring licences and checking network performance.
And we work with organisations to help them develop an ongoing IT roadmap, establishing short and long term aims that sit in line with their own business goals.
Ready to switch?
Get in touch with us for an IT service quote and more information on our transition process:
IT support provider
How Can We Help You Switch IT Providers?
As an experienced IT partner, we make it as easy as possible for organisations to transition to our service. Discover more in our video: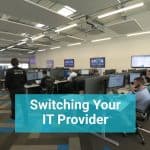 IT support provider
How to choose an IT support PROVIDER?
What should you look for in a new IT support partner? Here's our list of key credentials:
Switching IT Provider
COMMON Concerns About Switching IT Partner
We hear lots of reasons why organisations are afraid to switch, even after 100% price rises! Here's a summary of the most common reasons we hear – and what we say in return:
"A new IT provider won't know our systems"
It's true that every IT system is set up in a different way. And it's for this reason that Akita devotes time at the start of a new relationship to learning systems, documenting admin rights, and reviewing setup in-line with organisational goals.
In doing so, we'll often review systems that haven't been audited in years. So, it's fairly common to discover ways to improve organisations' IT setups or enhance their security.
So if anything, switching IT provider to Akita should make your systems better.
"How do we know if our new IT provider has the right skill set?"
This is a legitimate concern with smaller IT support providers. And in our time, we've seen some terrible setups where IT partners have tried to hide their lack of skills.
Akita works with organisations of all sizes and across practically every industry, so we have experience in a vast range of systems, software and solutions. With more than 40 IT expert engineers and consultants, we carry a huge breadth of experience and skills.
But in the very rare case that we encounter something new to us, we're humble enough to say so. So if there's that one niche piece of software you really need help with, we'll put our best people on the job to learn how we can help you.
"Switching IT provider is going to involve lots of effort on our part"
Your time is valuable, and you don't have much to spare for a new IT provider. That's why Akita' transition of service model is designed to let us take on the hard work.
We'll document your systems, catalogue licences and hardware, and review your setup. We'll obtain all relevant information from your current IT provider and even inform relevant third-party service providers (phone systems, internet providers, print suppliers etc.) that we're now managing your IT.
We will want to spend some time with you – but only to understand your organisation's goals and how we can help you achieve them. But you can leave the IT-side of things to us.
"Our old IT provider will cause us problems"
If your current IT provider tries to make it difficult to leave, it usually confirms that you're making the right decision.
But you don't need to worry. As part of our transition of service process, we handle all of the technical elements of switching IT provider. This includes obtaining relevant passwords and access rights from your old provider and migrating any licences to our care. Just leave it to us to get the information we need.
And whatever your old IT provider says, remember you were only paying for their services – YOU own YOUR IT systems. No one can legally withhold your data or threaten to turn services off prematurely.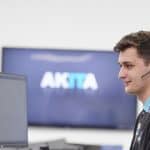 What Our Customers Say
The support service is always run at the highest possible standard. All issues are resolved with a lot of care. All phone calls and emails are answered very professionally and in extremely good manners. Thank you Akita :)
Aggie
Fantastic IT support for all business large and small, very helpful and so so super efficient.
Kevin
They have a fantastic team of specialists who are understanding, kind and informative. Their support feels both professional and personal to the company, which makes our own IT department function even more effectively.
Tom
...extremely professional, friendly and provide excellent customer service.
Barbara
We consider Akita as our off site IT department and find you and your colleagues always happy to assist with our questions.
Eileen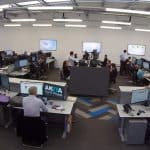 Changing Your IT Support
Having helped hundreds of organisations move over to our service, our process for bringing new customers on board with as little hassle as possible is well refined.
We'll obtain all information about your systems from your current IT provider, and transfer any relevant licences or cloud services. We'll even introduce ourselves to your other 3rd party suppliers (telecoms, internet etc.) so we can help you manage these services too.
One of our consultants will then spend time learning your internal processes, ensuring we know how you work so we can support that.
And we'll also draw up a roadmap on how systems can be improved, aligning this to your organisational goals.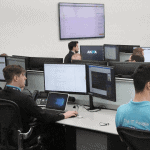 Get in touch
To discuss switching IT provider to Akita, please get in touch: