Teams
Microsoft's teamworking application can transform how your organisation works and communicates.
Microsoft Teams has been setting the business world alight since its launch in 2017 and is now used by over half a million businesses worldwide.
An advanced collaboration and communication platform, Teams can revolutionise engagement and working practices within organisations.
As a Microsoft Gold and CSP Tier 1 partner, Akita offers a full range of Teams services including licensing, deployment, training and ongoing support. We can even turn Microsoft Teams into your phone calling solution.
To discuss Microsoft Teams services, arrange a demo or discuss deployment options, please get in touch:
What is Microsoft Teams?
At its core, Microsoft Teams is a cloud-based group messaging platform that's enhanced with the power of Microsoft's Office 365 suite.
As such it can allow groups of contacts (or 'teams') to:
Send messages and converse as a team or one-to-one
Make audio and video calls to other Teams users
Share files and documents
Collaborate on Office 365 documents in the cloud
Communicate on the go via the Microsoft Teams app
This core set of functionalities can then be used in various combinations to achieve a range of operational goals for departments. Examples include:
Managing projects
Collaborating on sales pitches
Instructing field operatives
Hosting video conferences and webinars
Each user can create up to 250 teams, meaning there's enough capacity for all work projects to be run in its own individual Teams chat.
Documents shared within Teams will automatically store to a SharePoint Online instance, with each organisation able to access up to 25 TB of storage for their Teams files.
There are also a wide range of apps that can be added to Teams to expand functionality, including survey tools, CRM integrators and task management solutions to name but a few.
Benefits of Microsoft Teams
Teams can help improve the productivity of your organisation by increasing the flexibility of working and making key information more immediate.
Rather than having to wade through emails to keep up with a few vital pieces of communication, or search through nests of files to find key documents, Teams allows users to find all the information relevant to a subject or project in one place.
Users can also communicate instantly with their colleagues via individual or group messaging. As a team can be up to 5000 users, it can also be an effective way to communicate quickly across an entire organisation.
There's also the added benefit of Microsoft add-ons that integrate with Teams. Calendar, task assignment app Planner and OneNote are just some of the apps that can be easily integrated with Teams, syncing automatically across a user's Microsoft 365 account.
Teams as a calling solution
Microsoft Teams also supports audio and video calling.
Teams-to-Teams calling is included free of charge in all versions of the software. This means it can potentially save organisations money on internal or inter-office calls, and remove the need for software such as Skype.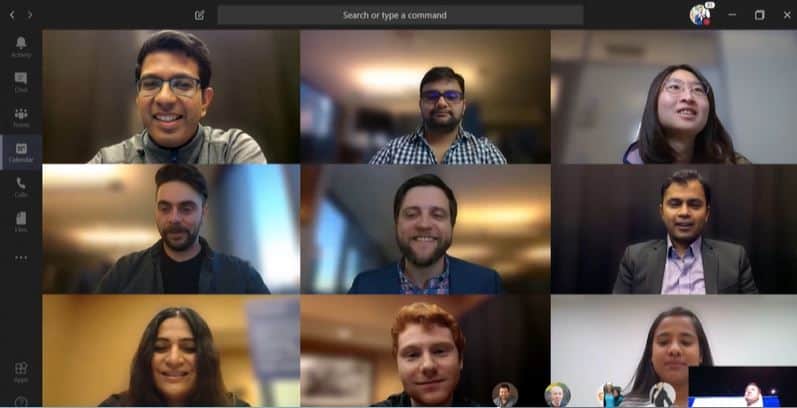 With the addition of Microsoft Business Voice, Teams can also be used as a fully functional phone solution. For a low monthly fee per user, calls can be made and received from within Teams on whichever device a user is logged onto (PC, tablet, mobile phone etc.)
Teams could, therefore, replace your entire existing phone system if desired. For more information on this, please get in touch.
Teams for Education
Microsoft has produced a specialist version of Teams designed for the needs of schools and educators.
Additional features include virtual classrooms where teachers and pupils can video conference, Assignments which allows teachers to set and collaborate on work with pupils, and Grades where feedback can be delivered securely.
To arrange a demo for Microsoft Teams for Education, please get in touch:
Implementing Teams in your organisation
Microsoft Teams is licensed per user. While a limited version is available for free, many organisations will discover they have access to the full version of Teams as part of their Office 365 licence packages.
Akita can provide any Microsoft licensing required and assist with the installation of Teams across your organisation. This can include configuring Teams to match departmental requirements.
Our consultants can assist with staff training and engagement methods to ensure successful adoption. And should it be needed, we can also supply audio and visual hardware to make use of Teams' calling functionality, with solutions ranging from Bluetooth earpieces to advanced conference room camera setups.
For Teams services, please get in touch for more information.
Other services
Contact us