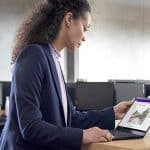 Microsoft MDM
Microsoft Intune
Security for devices accessing your organisation's data
Microsoft Intune is a Mobile Device Management (MDM) solution for securing and managing mobile phones, tablets and PCs. It can be used to protect organisational data without interfering with the rest of the device and guarantees a level of security when accessing business systems.
Get In Touch
Discuss a Microsoft Intune solution with one of our experts today:
With so much information now stored and accessed from mobile devices, they are coming under increasing threat from cybercriminals. Despite unmanaged mobile devices representing a huge security risk, many organisations have no comprehension of what devices are accessing key resources such as email and document stores.
Using Microsoft Intune, any device (including personal devices) that accesses an organisation's resources can be managed and secured. This means organisations can take control of how their data is accessed. Equally, lost devices no longer pose a GDPR or security risk as information can be wiped from them remotely.
Features of Micrsoft Intune
Restricts access so only enrolled and compliant devices can gain access to an organisation's data sources. Restricted applications
can include Exchange or Outlook emails, OneDrive for Business documents, SharePoint Online and more.
Access and policies can be customised based on user/organisation requirements. Devices can be blocked based on
location or sign-on type.
Encrypts organisational data, but not other information: perfect for users accessing data from their personal devices
Organisational data can be wiped remotely from a device at any time without wiping the entire device.
Self-service portal can be set up for users to enrol their own devices and install corporate applications across multiple mobile
platforms.
Deploy certificates, WiFi setups, VPN setups and email profiles automatically once a device is enrolled.
Facilitates limited-use tablets (designed for specific tasks such as reception sign-ins, product catalogues etc.). In limited-use mode,
only apps related to a role can be used on the device.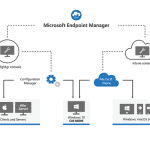 Cloud Security
Microsoft Endpoint Manager
Intune is now part of  Microsoft Endpoint Manager – a comprehensive cloud management solution. Endpoint Manager can be used to enforce security across your whole cloud estate, and simplify the provisioning and management of devices connected to your systems.
Whether your organisation is interested in a complete Endpoint Manager setup or just wants Intune, Akita can manage the deployment, management and ongoing support of your Microsoft security solution.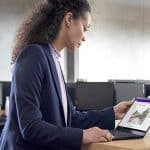 Get In Touch
Contact us to discuss Microsoft Intune and Endpoint Manager security solutions: