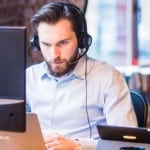 Unified communications
MICROSOFT 365 BUSINESS VOICE
Turn Microsoft Teams into a powerful and flexible telephone system.
Turn Microsoft Teams into a powerful and flexible telephone system.
Microsoft 365 Business Voice is an additional licence product that turns Microsoft Teams into a fully functional phone system. In turn, Teams can become a flexible unified communication solution for your organisation, uniting internal communications with your phone system.
Get In Touch
Contact us to discuss transforming your Microsoft Teams solution:
WHY USE MICROSOFT 365 BUSINESS VOICE?
Business Voice is a logical replacement for PTSN and ISDN telephone systems (now being made obsolete) and offers organisations a cheaper solution than many telecoms providers.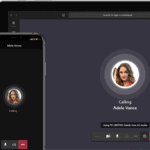 Like a regular desk phone, users get their own phone numbers to receive and make calls. Because Business Voice is a part of Teams, you can turn any PC, Mac, or mobile device into a phone to field your organisation's calls.
All the features of a phone system are included with Business Voice: voice mail, caller ID, shared phone lines, and emergency calling. You can also set up standard and freephone numbers, call menus to help callers get to the right department, audio conferencing to host meetings with anyone, and more.
All these features come wrapped into an easy-to-manage bundle. You don't need to worry about choosing the right plan or feature; they're all there and set up for you.
Akita can provide all necessary licensing, deploy Teams and Business Voice across your organisation, and assist with ongoing management.
BENEFITS OF MICROSOFT 365 BUSINESS VOICE
Business Voice is the perfect calling solution for organisations of 300 or fewer people either already use Teams or are looking to digitally transform their telecoms.
Request A Quote
Get the costs on implementing Business Voice within your organisation:
Unified Communications
MICROSOFT 365 BUSINESS VOICE COSTS
There are two common Call Plan Options for Business Voice:
Microsoft 365 Business Voice* – £11.30 user/month (includes the Domestic Calling Plan with 1200 minutes).
Microsoft 365 Domestic and International Calling Plan* – £18.11 user/month (includes 1200 minutes of domestic OR 600 minutes of international calling – whichever is reached first).
Akita can implement a Teams phone system for organisations and support it as part of our IT support service.
Additional call charges apply should users go beyond these.
Case Study
Discover how we've implemented Microsoft Teams as a calling solution for one of our customers: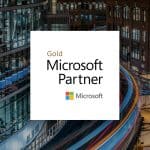 IT Managed Services
About Akita
Akita is a leading IT company working with organisations across London and the South East.
Alongside our comprehensive IT support offering, we're an experienced provider of professional managed services including unified communication and VoIP phone solutions.
We're also Microsoft Gold partners, offering expert support for common Microsoft 365 products as well as development for Microsoft's advanced business systems.
To discuss our IT services in more depth please get in touch: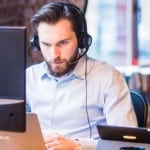 Get In Touch
For more information on calling packages, implementation and wider questions about Teams, please get in touch.