Server Installation & Solutions
Akita has over 20 years of experience in all aspects of server installation, migration, upgrade and care. We work across all hardware and software platforms and can provide physical or cloud server solutions for organisations of all sizes.
Whether you require a server installation, a server migration, or simply monitoring for your existing server hardware, Akita can provide you with expert advice and 24/7 support.
Server installation
Akita can provide support for every stage of a new server installation. Based on your requirements and budgets, we can plan out the right hardware and software solution for your organisation.
Every solution is carefully planned to meet your needs, timescales and budget. And with every project, we take the time to ensure that it works correctly for your business straight away.
Server migration
Never to be underestimated as a project, your server migration is in safe hands with Akita. We'll guarantee the consultancy and expertise to get the most from your migration.
Whether you're changing to more powerful hardware or looking to switch over to a hosted server solution, our highly-experienced projects team can oversee all elements of migration, from strategising file migration to sourcing necessary hardware and licensing. They can even work out of hours or over weekends to eliminate disruption to your business.
Server backup
Safeguard your business data by backing up your server with Akita's cloud backup service.
With the advent of regulatory requirements relating to data and emails, data storage and offsite backup has become ever more critical. Our technicians can assess, design and implement the right policy for your environment based on hardware backup devices or remote backup.
With our managed service solution, we'll even test your backup policy regularly, ensuring your compliance and peace of mind.
Microsoft Exchange Server
With decades of combined experience of Microsoft Exchange Servers, our technicians can troubleshoot your existing server or help you migrate to Microsoft Exchange Server 2019. This can give users enhanced mobility while providing increased server availability, reliability and security.
Our experts can also help you with all aspects of support for your server installation, from setting up emails and shared calendars to archiving.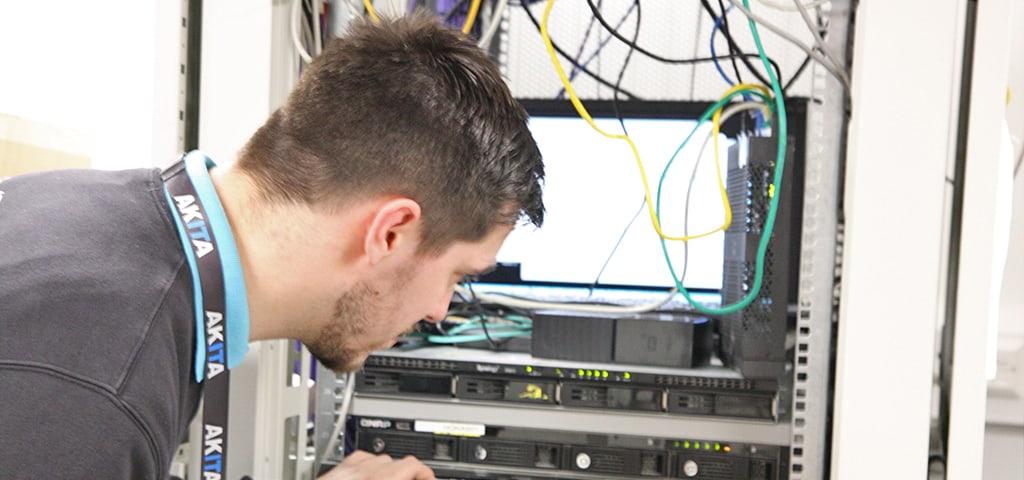 Hardware procurement
Akita's specialists can demystify the process of server hardware procurement. We'll ensure you get the right IT equipment for your organisation along with the right software to ensure your server installation runs as efficiently as possible.
Microsoft SharePoint Portal Server
Microsoft SharePoint Portal Server provides a central point of access for all your company information forming the basis for collaboration. With its powerful document management functionality, SharePoint Portal Server enables your company to share information between colleagues, with your customers and with your suppliers.
Akita has successfully migrated and installed SharePoint Portal Server for many clients. In doing so we've developed a number of customised components, delivering additional value to projects.
Server Monitoring and support
Trust Akita to provide your organisation with comprehensive support for your existing server installation. Our server support services range from 24/7 server monitoring to proactive server maintenance, including managing patches and updates for you.
Akita's server support aims to eliminate business downtime caused by IT infrastructure. So if work needs to be done, we'll complete this at a time that least impacts your organisation.
To discuss your server requirements, please get in touch.
Other services
Contact us