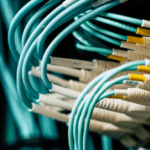 DATA CABLING
Akita has been designing and installing cabling networks since 1996. This experience counts for a great deal when it comes to getting your data cabling project right.
Data cabling is one of the most important parts of any IT setup and the area that can make or break a network. It is also often the hardest part of an IT setup to change should an organisation outgrow its cabling or should cabling prove unfit for purpose.
Cabling projects, therefore, need to be planned and implemented carefully, not only to achieve success but to ensure flexibility for future growth. This is where you can benefit from Akita's skills and expertise.
STRUCTURED DATA CABLING
Structured cabling is the wiring system used to transmit data, video and voice information from office-to-office or within a building.
It's key for the following reasons:
100% of company data travels across cables at some stage.
Around three-quarters of network faults are caused by cables, mostly due to incorrect installation.
The cable network is a small percentage of IT cost but plays a critical role. Under-investment can lead to poor IT performance (e.g. slow data transfer and other network failures).
A standardised structured cabling system can reduce the overall cost of the network infrastructure.
Data cabling is a contributing factor to the value of a business space. A location with no or poorly implemented cabling will prove a costly prospect to a new tenant and potentially less desirable.
Akita delivers professional structured cabling solutions that use the best quality materials to ensure longevity. Our staff are fully trained in all aspects of cabling. They're also qualified to complete works at high levels using equipment such as scissor lifts and cherry pickers.
Our structured data cabling is designed to give your organisation the best connectivity and functionality, both now and in the future.
And though we've never had cause to use it, we offer our cabling with a 5-year guarantee on works (subject to fair usage and conditions).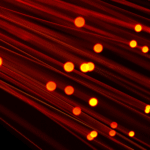 FIBRE OPTIC CABLING
Fibre optic cabling allows for the transfer of data at close to the speed of light. It's often used to transfer over longer distances, such as between buildings.
Fibre optic cable installation is a highly specialist task. Together with our partners, Akita can complete fibre cabling jobs as part of larger structured cabling projects.
DATA CABLING PROJECT MANAGEMENT
When it comes to your cabling project, Akita is able to guide you through every step of the process.
From meeting on-site for a cost-free site survey, through to designing the best solution for your needs, we can carry out your data cabling project within your timescales and budget.
Akita also offers a full suite of other IT services ranging from office relocation to server installation, meaning that you can rely on us to get the best out of your IT network once your cabling is installed.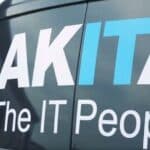 ABOUT AKITA
Akita is a leading provider of IT support and managed services. from offices in Central London, Kent and Surrey, we support organisations across London and the South East, along with their satellite locations across the wider UK and internationally.
Get In Touch
To discuss your data cabling requirements or a specific project, please get in touch.
Thank you
We have received your enquiry and a member of our team will be in touch soon. If your query is time sensitive please do call us.