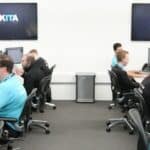 IT SERVICES
Akita offer a range of leading IT services. With a track-record stretching over 25 years and an experienced, friendly team of multi-discliplined engineers, Akita have the expertise to meet your needs, however challenging.
Akita provides a complete range of professional managed IT services to complement our IT support offering. These IT services are designed to address practically every IT scenario that an organisation can face and are delivered by our team of multi-skilled engineers.
BUSINESS IT SERVICES
Akita offers over 40 managed IT services, including:
IT & COMMUNICATION SOLUTIONS
Alongside these day-to-day IT requirements Akita can also offer a wider range of business IT and technology solutions. We can provide connectivity solutions including internet connections, business mobile phones and 4G internet solutions.
As a Microsoft Tier One Cloud Solutions Provider, Akita can also provide a wide range of Microsoft solutions including Office 365, SharePoint and Dynamics 365, as well as assist with licensing.
Get in Touch
To discuss your IT service requirements, get in touch.
Thank you
We have received your enquiry and a member of our team will be in touch soon. If your query is time sensitive please do call us.