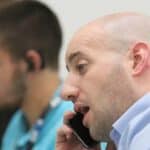 COVID-19 RESPONSE
Based on the current situation, the team at Akita wanted to outline how we are addressing Coronavirus COVID-19 in terms of the potential impact to our service delivery.
As a technology services company, we already have well-established plans and processes to ensure that we can continue to fulfil our obligations to our customers, with little or no impact for the foreseeable future.
COMMUNICATION
Regardless of where they are working from, Akita's customers can continue to access our helpdesk support via the usual channels. Please visit our contact page for these details: https://www.akita.co.uk/contact/
BUSINESS CONTINUITY
As part of our ISO 27001 certification, Akita has plans in place for Business Continuity that are updated and tested regularly.
Plans have also been reviewed as part of a scheduled audit by an independent ISO certification body. This concluded that the requirements of ISO standard were being met in every instance.
CONTINUATION OF SERVICE
Akita is committed to continuing with both our proactive and responsive support services throughout this difficult period.
Where requested, we will perform Proactive General Maintenance days, projects, technical account management and helpdesk tasks remotely.
In limited cases, where a physical presence is required, tasks may be postponed until the current situation is resolved.
SUPPLIERS
Due to the current situation, we are starting to see increased lead times for some items of IT hardware.
Wherever possible, our team is working to meet customer requirements by using the full width of our supplier base. However, we expect lead times to remain longer than usual for the foreseeable future.
We will endeavour to fulfil all customer orders as quickly as possible, but would ask for your patience during this time.
For further information relating to our services or remote working, please get in touch: info@akita.co.uk