As of the V18 update, 3CX offers full native integration with Microsoft Teams to the market-leading business VoIP telephony system.
Teams Integration
With Teams integration, users can now dial internal users on Teams straight from 3CX and external users straight from Teams using 3CX SIP trunks. Users can now use a single unified system and no longer need to switch between 3CX and Teams for calling. Further to this, a major advantage is the cost savings, as a separate Teams calling plan is no longer required.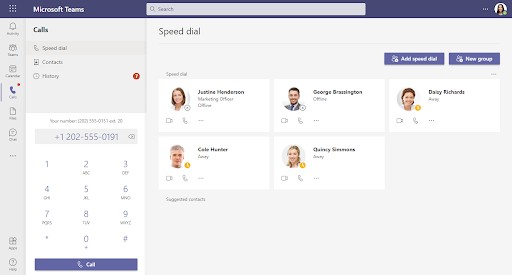 Other benefits of integrating with Teams are:
Teams-compatible handsets/headsets are no longer necessary – any IP phones will do
Admins can make the most of the detailed call reporting analytics present in 3CX
Fewer users need to be on Microsoft 365 E5 licences – saving you money
Admins benefit from a more powerful, fully featured, PBX than Teams
Performance Improvements With V18
V18 of 3CX also brings with it a more secure video engine. Audio, connection and security are all improved while using 50% less processor and memory usage.
The web client is now available as a native Windows desktop app with tighter integration with the operating system. This in turn creates a much smoother, more reliable, user experience. This includes single sign on support (SSO) which means users are now able to log in to the web client using their Microsoft 365 account details.
The iOS and Android 3CX apps have also had a performance boost, and the integration improvements don't just extend to Teams – iOS users can now ask Siri to make calls using 3CX.
Akita As Your 3CX Partner
Akita is a 3CX Gold Partner. This means we're highly experienced in commissioning and supporting 3CX VoIP systems for organisations of all sizes. And you can find out more about our VoIP solutions in our case studies.
For more information on 3CX and Microsoft Teams integration, please get in touch:
Contact Us