Business Telecoms In London
Akita is an IT and business telecoms company London organisations choose for proactive support and reliable telecoms solutions. We provide VoIP phone solutions for organisations of up to 2000 users located across Greater London and the wider South East.
Why use VoIP Telephones?
VoIP offers a more flexible way of running business phone systems. More than just a handset on your desk, a 3CX VoIP system will allow you to take calls from a handset, your PC or laptop or mobile phone. Office in separate geographic locations can also run the same phone system, running off the same telephone numbers, and with central management.
VoIP phone systems also introduce significant cost savings. As VoIP works via Internet connections rather than telephone lines, so there's no line rental to pay. Any call charges are also significantly lower than traditional phone lines. So overall a business can save as much as 40% on their telecoms charges.
Lastly, did you know that BT phone lines are being decommissioned? By 2020 BT will stop selling new PTSN and ISDN phone lines and by 2025 they'll all be turned off, requiring businesses to change their phone solutions. Beat the rush and enquire about VoIP today.
VoIP Telephone Systems
Akita's team of expert engineers provide and setup VoIP telephone systems to work for businesses of all sizes. This includes setting up SIP trunks, running cabling, supplying any hardware or licenses you require, and even improving your Internet bandwidth.
Akita utilises 3CX VoIP software. We are a recognised 3CX Platinum Partner due to the number of projects that we undertake. Our pricing is highly competitive and – above all – transparent. So there are no hidden costs or overselling against your requirements: we give you what you need and nothing more.
As part of the installation of your London business telecoms, we can also assign time to set up your phones systems to work for any regional offices you may have across the UK or internationally. As 3CX VoIP is centrally managed, so you can make changes for all offices without the need to go to them one-by-one.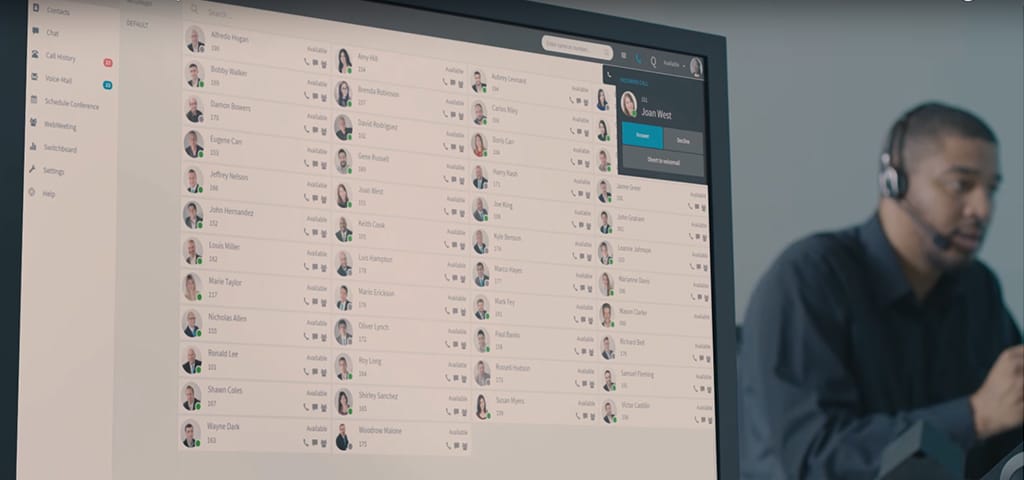 Our VoIP telephone systems are also easily expandable. So should your business grow, or should you set up a new office (in or out of London), your business telecoms solution can easily grow with you, supporting rather than restricting you.
Should you want it, Akita can also provide ongoing VoIP telecom support for all your locations. We offer guaranteed response times with our 24/7 remote support. Plus we can schedule dedicated maintenance and improvement time to keep your VoIP system free of problems.
VoIP Video Calling & Conferencing
All 3CX VoIP telephone systems that Akita provides come with video calling and conferencing solutions built-in and free of charge.
Video calling can be problematic for some organisations as everyone uses different software. As users of Akita's 3CX VoIP system will likely want the 3CX app on their PC and phone, they've already got the software they need to make video calls or join video conferences. It's a great solution for talking with regional offices or catching up with remote workers.
Of course, you can also video conference with people who don't have 3CX. Just select their phone number from the app, or type in their email address, and they'll be invited to join. It's that simple.
And if you're looking to use video conferencing in a board room or meeting room, Akita can source you the hardware to maximise your experience, from simple audio solutions to advanced conference cameras that activate depending on who is speaking in the room.
London connectivity solutions
If you're looking to move to a VoIP phone system but only have basic or limited Internet, let Akita arrange a better connection for you.
From our Central London office, we'll coordinate the install of a new Internet line to your office to coincide with the installation of your VoIP telephone system. We'll deal with the hassle of scoping and installing, so you can be up and running without any hassle.
Need a new Internet connection fast? We can also set up a point-to-point Internet connection in as little as 5 days. And that's not just for VoIP – it'll support your entire network.
To discuss VoIP with a business telecoms company London companies can rely on, get in touch.