Akita Guide to Online Marketing
For many small business owners, the opportunities for promoting their business online can seem daunting.  Where should you start?  Will social media marketing not just be a complete waste of my time?  Can staff be trusted to represent your brand in an online world?
To help demystify the challenges and complexity of online marketing, Akita have produced a free guide to help detail the pros and cons of various web and social media applications, as well as explaining how email, content marketing and search marketing can benefit your business.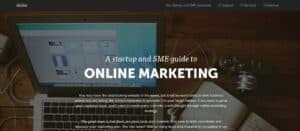 The guide can be found by clicking the image above or by the following link https://www.akita.co.uk/online-marketing-guide/